March 22, 2019
KEITH RICHARDS
New Video For Big Town Playboy Released from
'Talk Is Cheap' 
30th Anniversary Reissue of Stone Cold Classic
Released As Super Deluxe Box Set, Deluxe Box Set, CD, LP, Digital March 29 on BMG
Available to Pre-Order Here
keithrichardsbmg.lnk.to/TiCPR
With the 30th anniversary re-release of the year for 'Talk Is Cheap' on March 29th via BMG, Keith Richards today releases the video and IG for bonus track 'Big Town Playboy'.
The stone cold classic album will be re-issued as a super deluxe box-set, deluxe box set, CD, LP and digital.
Effortlessly timeless, the bluesy guitar and bassline in combination with Keith's husky voice in 'Big Town Playboy' transport the listener back to a different time: one of laughter, booze and rock 'n' roll. (bit on video)
Listen to 'Big Town Playboy' HERE
https://keithrichardsbmg.lnk.to/BTPPR
In 1988 Keith Richards released his first ever solo album, 'Talk Is Cheap', an eleven track masterclass in everything good about rock 'n roll.
30 years on, a reissue of the album is being released including a very limited Super Deluxe Box Set this month.
From March 22nd 'The Final Five' from the production line will be featured in 'The Keith Collection', an exhibition in some of the worlds top Rock n Roll hotels including the Karma Sanctum Soho in London, 25hours Bikini Hotel in Berlin, L'Hotel Paris, O.D. BARCELONA and Andaz West Hollywood. Without being one of the lucky 1145 people to own one of these limited edition boxes, this will be the only opportunity to see the box in all it's glory.
These boxes really are pieces of art with a real-wood case that was hand-built and aged by Fender, using the same materials as Keith's iconic vintage telecaster, Micawber. It takes 37 Fender staff to complete each box , plus an additional 11 different suppliers of parts and services: from corrugated boxes to graphics on the chrome control plate, to the sawmill cutting the ash. It takes 2 weeks to produce each box. However, the first box took about 4 months and 20 different prototypes to get each part correct
 "The aging on the brass name plate is done in a high temperature metal tempering oven (Temperature, time, and exact process is a trade secret).   The ash exterior is a multi-step process that is also proprietary, but is different that we use in aging guitars, due to the precision required to age a guitar in the appropriate areas that wear due to use." Mike Born, head of wood at Fender
You will find 'The Final Five' in the following hotels from March 14th for 8 weeks:
#1146 – Karma Sanctum Soho, London
#1147 – 25hours Hotel Bikini, Berlin
#1148 – O.D. BARCELONA
#1149 – L'Hotel Paris
#1150 – Andaz West Hollywood
'Talk Is Cheap' will be released as CD, vinyl, Deluxe and Super Deluxe box set.
'Talk Is Cheap' Single CD and vinyl full tracklisting:
1. Big Enough
2. Take It So Hard
3. Struggle
4. I Could Have Stood You Up
5. Make No Mistake
6. You Don't Move Me
7. How I Wish
8. Rockawhile
9. Whip It Up
10. Locked Away
11. It Means A Lot
'Talk Is Cheap' Deluxe & Super Deluxe Box Set includes these extra bonus tracks:
1. Blues Jam
2. My Babe
3. Slim
4. Big Town Playboy
5. Mark On Me
6. Brute Force
'Talk Is Cheap' Deluxe Box Set also comes with
*180g LP album &180g LP bonus material
*the 7" Single (Take It So Hard / I Could Have Stood You Up)
*the 7" Single (Make No Mistake / It Means A Lot)
*CD album & CD containing bonus material
*80 page hardback book featuring Anthony De Curtis essay, new interview with Keith Richards and extensive photos,
*Memorabilia: 1x tour laminate, 2x lyric sheets, original 'Talk Is Cheap' playback invite, tour guitar pick and 2x posters
*Housed in a folio pack wrapped in Fender guitar case material
'Talk Is Cheap' Super Deluxe box set
*Limited & Numbered
*All content matches the Deluxe Box set
*Comes with added special feature, a one-of-a-kind exclusive casing replicating Keith's favourite Fender Guitar 'Micawber'
*Features hand-reliced ash wood with original Fender guitar elements, handmande at the Fender Custom Shop in California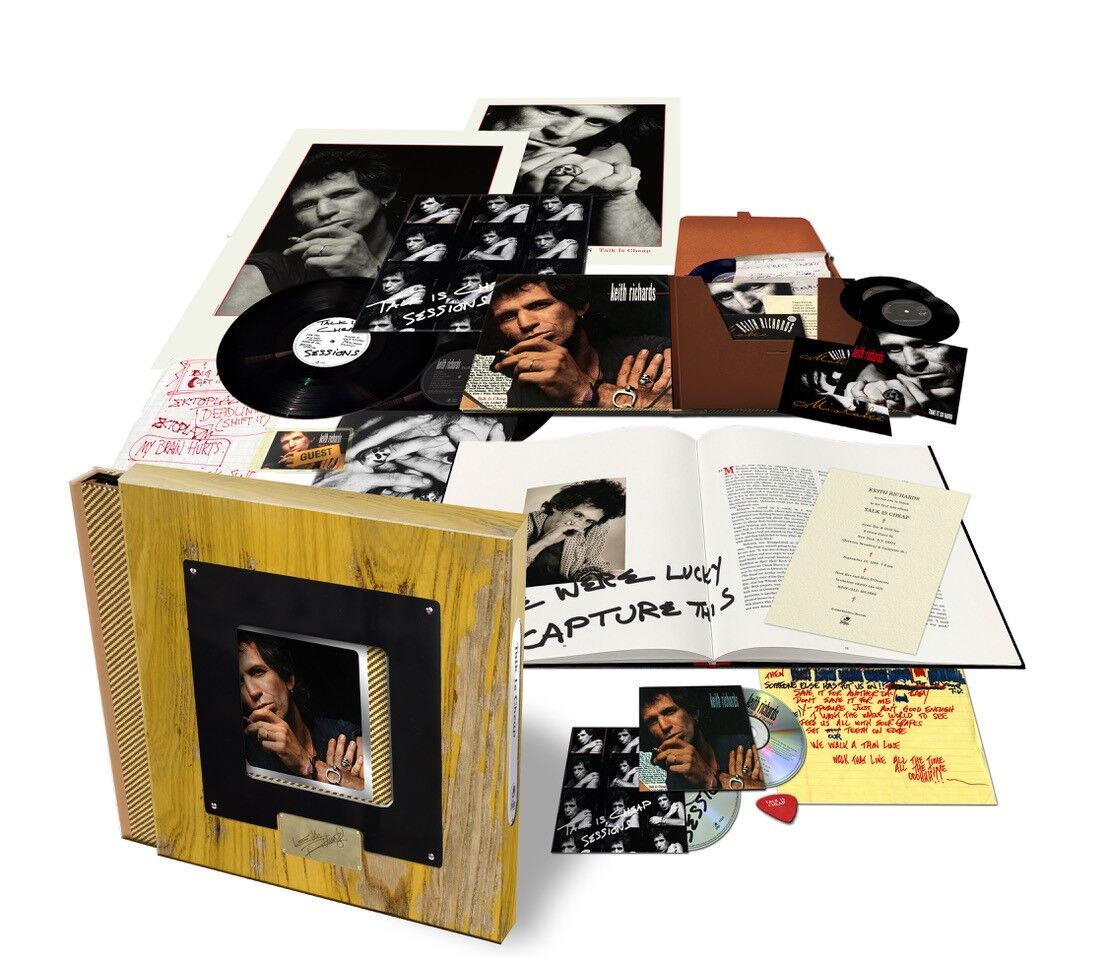 Latest posts in the same category
January 21, 2021
2021 SOUNDS BETTER TOGETHER | Five new dates added to concert series kicking off across metro & regional Victoria this weekend! View this email in . . .
Read more
January 18, 2021
VISIT VICTORIA AND MUSHROOM GROUP PROUDLY PARTNER FOR  2021 SOUNDS BETTER TOGETHER A CELEBRATION OF LIVE MUSIC IN THE STATE OF MUSIC EIGHT DAYS OF CONCERTS TO BE STAGED ACROSS . . .
Read more