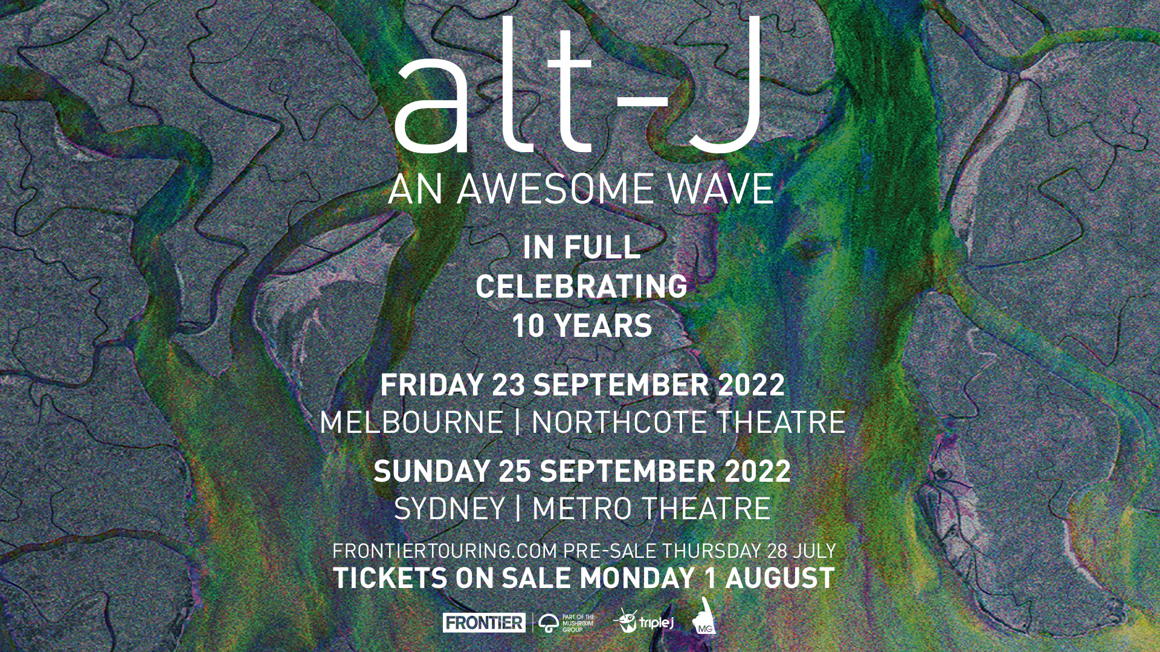 alt-J ANNOUNCE 10TH ANNIVERSARY LIVE PERFORMANCE OF THEIR DEBUT ALBUM AN AWESOME WAVE
Band to play album in full in Melbourne and Sydney
Frontier Touring are thrilled to announce two very special alt-J live performances of their 2012 ARIA Platinum selling and UK Mercury-prize winning debut album, An Awesome Wave. Celebrating the albums' 10th anniversary, the band will be playing the game-changing debut in full from start to finish, plus bonus tracks at Melbourne's Northcote Theatre on Friday 23 September and Sydney's Metro Theatre on Sunday 25 September. ​
​
​Speaking of their decision to perform the album live in Australia the band say:
"To celebrate the ten-year anniversary of the album that changed our lives, we are thrilled to announce these extra gigs in Australia where we will play An Awesome Wave in full. We know how much this record means to our Aussie fans and can't wait to turn back the clock to 2012 with them in our favourite country."
Frontier Members pre-sale kicks off at 12noon AEST Thursday 28 July before the General Public on sale 12noon AEST Monday 1 August. Tickets via frontiertouring.com/anawesomewave.
It is set to be a truly momentous show, a celebration of the album that introduced the world to Joe Newman, Gus Unger-Hamilton and Thom Sonny Green's beautifully imaginative, and genre-defying, music. The two shows are to take place during the band's Australia and New Zealand run across Auckland, Brisbane, Melbourne, Sydney, Adelaide and Perth in support of their fourth and most recent album, The Dream.
The Dream Tour will perform at: Spark Arena, Auckland, Saturday 17 September; Riverstage, Brisbane, Tuesday 20 September; Margaret Court Arena, Melbourne, Thursday 22 September; Hordern Pavilion, Sydney, Saturday 24 September; Adelaide Entertainment Centre Theatre, Adelaide, Tuesday 27 September; and HBF Stadium, Perth, Thursday 29 September.
---
About alt-J
​alt-J are one of the most successful British bands of the millennium. Joe Newman, Gus Unger-Hamilton and Thom Sonny Green have released four studio albums that, between them, have sold in excess of two million copies and their songs have been streamed over two and a half billion times. Their 2012 Mercury Prize and Ivor Novello Award-winning debut An Awesome Wave, was followed two years later by their number one, GRAMMY and BRIT Award-nominated album This Is All Yours. Released in 2017, RELAXER flew straight into the top 10 of the UK albums chart ahead of a summer of major international shows – including a headline show at London's O2 Arena and headline performances at numerous festivals – and became their second album to be nominated for the Mercury Prize.
In Australia, all four of alt-J's albums have debuted in the ARIA top ten – An Awesome Wave (#9 peak), This Is All Yours (#2 peak), RELAXER (#4 peak) and The Dream (#6 peak).
An Awesome Wave (2022 reissue) is available on white vinyl and other formats (via Liberator Music – here).
---
alt-J
​AN AWESOME WAVE 10TH ANNIVERSARY ALBUM SHOWS
​SEPTEMBER 2022
​Presented by Frontier Touring and triple j (AU)
---
FRONTIER MEMBERS PRE-SALE 
​via frontiertouring.com/anawesomewave
​Runs 24 hours from: Thursday 28 July (12noon AEST)
​or until pre-sale allocation exhausted
GENERAL PUBLIC ON SALE
​Begins: Monday 1 August (12noon AEST)
---
Friday 23 September
​Northcote Theatre | Melbourne, VIC
​18+
​On sale: Monday 1 August (12noon AEST)
​moshtix.com.au | Ph: 1300 438 849
​
​Sunday 25 September
​Metro Theatre | Sydney, NSW
​18+
​On sale: Monday 1 August (12noon AEST)
​ticketek.com.au | Ph: 132 849
---
alt-J
​THE DREAM TOUR AUSTRALIA & NEW ZEALAND
​SEPTEMBER 2022
​Presented by Frontier Touring, triple j (AU), NZME and Coup De Main (NZ)
ALL SHOWS LICENSED ALL AGES
​ON SALE NOW
---
Saturday 17 September
​Spark Arena | Auckland, NZ
​Licensed All Ages
​ticketmaster.co.nz | Ph: 0800 111 999
​
​Tuesday 20 September
​Riverstage | Brisbane, QLD
​Licensed All Ages
​ticketmaster.com.au | Ph: 136 100
Thursday 22 September
​Margaret Court Arena | Melbourne, VIC
​Licensed All Ages
​ticketek.com.au | Ph: 132 849
Saturday 24 September
​Hordern Pavilion | Sydney, NSW
​Licensed All Ages
​ticketek.com.au | Ph: 132 849
Tuesday 27 September
​Adelaide Entertainment Centre Theatre | Adelaide, SA
​Licensed All Ages
​ticketek.com.au | Ph: 132 849
Thursday 29 September
​HBF Stadium | Perth, WA
​Licensed All Ages
​ticketmaster.com.au | Ph: 136 100